BABYCAKES ROMERO is a street photographer dedicated to documenting the world around him, especially his hometown of London. He gained quite a bit of popularity after posting his "Death of Conversation" gallery, which focused on smartphone use and the widening disconnect in human interactions.
Lara Taffer got the chance to learn about the person behind the camera, his daily #MYLDN series highlighting "the chaotic glory that is London," as well as his work as a music gig photographer.
So, the basics: What's your background?  What got you interested in photography and film? Why do you do what you do?
I have been interested in photography since I got my first proper 35mm camera when I was 18 and have been taking pictures ever since. I have had no formal training and do everything by instinct. I see stills amidst the action of life and do my best to record as cleanly as possible what my brain noticed.
I rarely take more than one shot for this reason. You either capture what you saw or you don't. I do feel compelled to document the world around me. Its difficult to say why. I am really just trying to record moments of truth, moments of irregularity, and moments of pleasure. For example, I love taking photographs at gigs because you are surrounded by a mass of extremely happy people.
What equipment do you use?  Do you stand on a certain side in the digital vs. analog debate?
I exclusively use an Olympus OMD em- with an 18mm pancake lens. Its a micro 4/3 system which basically means I can have SLR quality but I can fit it in my pocket. For me this is more important than anything. I need a camera I can access fast otherwise I will not be able to capture the moment I saw.
For me, speed is everything. It doesn't matter how great a quality your camera is if it takes you too long to get it out of a bag.  I used to have a Canon 5d but it was such a palava to lug it around I ditched it for the OMD and I have never looked back since.
In terms of digital vs. film – I am firmly on the side of digital for the simple reason that its lack of cost meant that I was really able to shoot as much as I wanted without having to worry about expenses.
I learnt photography on a film camera but buying the rolls and developing them meant that it was often prohibitively expensive. The digital revolution brought freedom and I think I would not have evolved anywhere near as much without it.
How would you describe your style?  What do you look to capture in each shot or series?
If I had to give it a name, I would maybe describe it as "Urban Reportage." I live in London and it is the greatest source of inspiration for my work. I have a daily series called MYLDN where I try to capture the chaotic glory that is my hometown. The entire world is here so its like traveling without moving. I love being surrounded by a multitude of cultures and showing the diversity of the inhabitants.
I was born and raised here but as far as I'm concerned if you live in London you are a Londoner, it doesn't matter where you are from. I don't really have an agenda other than trying to document the world around me, the world that I see rather than one I wish to present.
I am not interested in manipulation, to make things look better or worse than they are for effect. For me to attempt to show things as they actually are is much more important to me.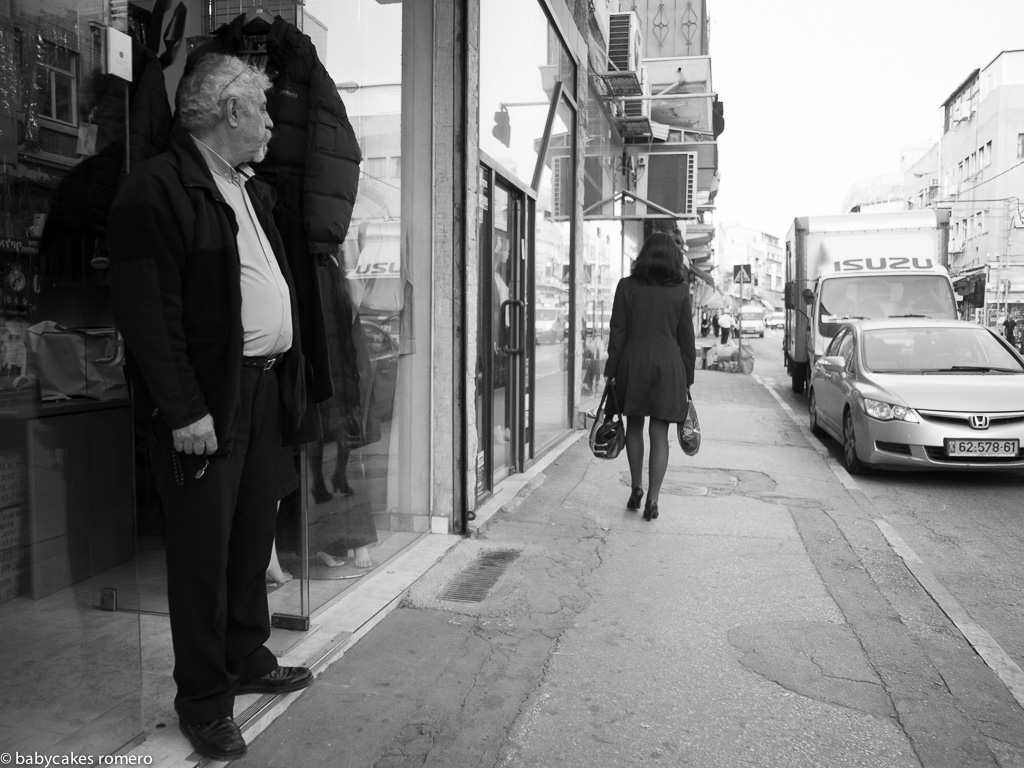 From 'Televivision' by Babycakes Romero
Do you have any major influences or people who've inspired your style?  Or, any other artists' work you admire?
I have made a conscious effort in my life not to be influenced by other photographers. I would much rather be influenced by life than by art. I was given a photography book of Wegee when I was in my teens and that had a big effect on me but I still didn't try to copy him. There are tons of artists out there that I admire who do incredible work but none I seek to emulate. One of my favourite quotes is "Be yourself, everyone else is taken" and that is how I try to operate.
 From 'Are You Talking To Me' by Babycakes Romero
Do you have a favorite photo series or film of your own work?  Why does it stand out?
I did a series of photographs called "Unart" which were a series of photographs I took in the tunnels of the London Underground where they had ripped up decades of posters and the remnants created these unintentional modern art pieces.
They were the subject of my first exhibition and it was a sell out show, so that was great.  I have had a lot of exposure online but there is nothing like being on a wall in someone's house. You become a part of their existence. I look at the pictures I have up in my flat every day and so I have a great degree of satisfaction when I get print orders for this reason.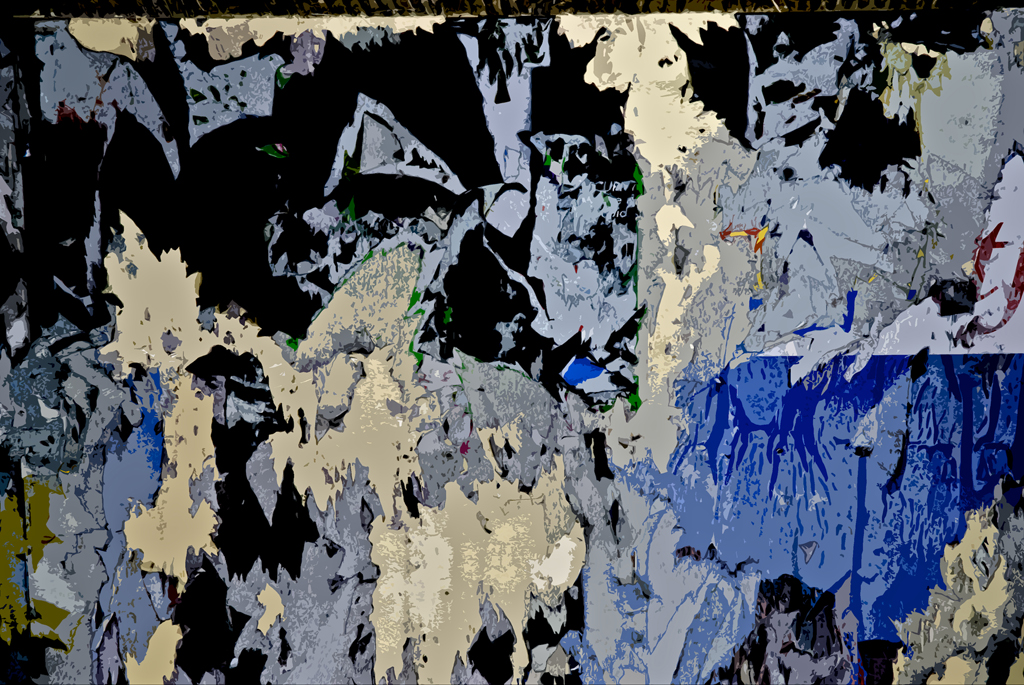 From 'Unart' series, by Babycakes Romero
What would your dream assignment be?
I love to do music gig photography. I recently covered a Massive Attack gig in Paris at Le fete d'humanite and I was on stage taking photos and staring out to a crowd of about 80,000 people. It was the most incredible atmosphere and an experience I would love to replicate with some other of my all-time favourite bands/singers. Bowie, Bryne, Blondie… any of those would do.
Or just any act beginning with a B! I took some photos which were used by Glastonbury last year and would love to get assigned there this year to take more. That would be my ultimate business and pleasure assignment.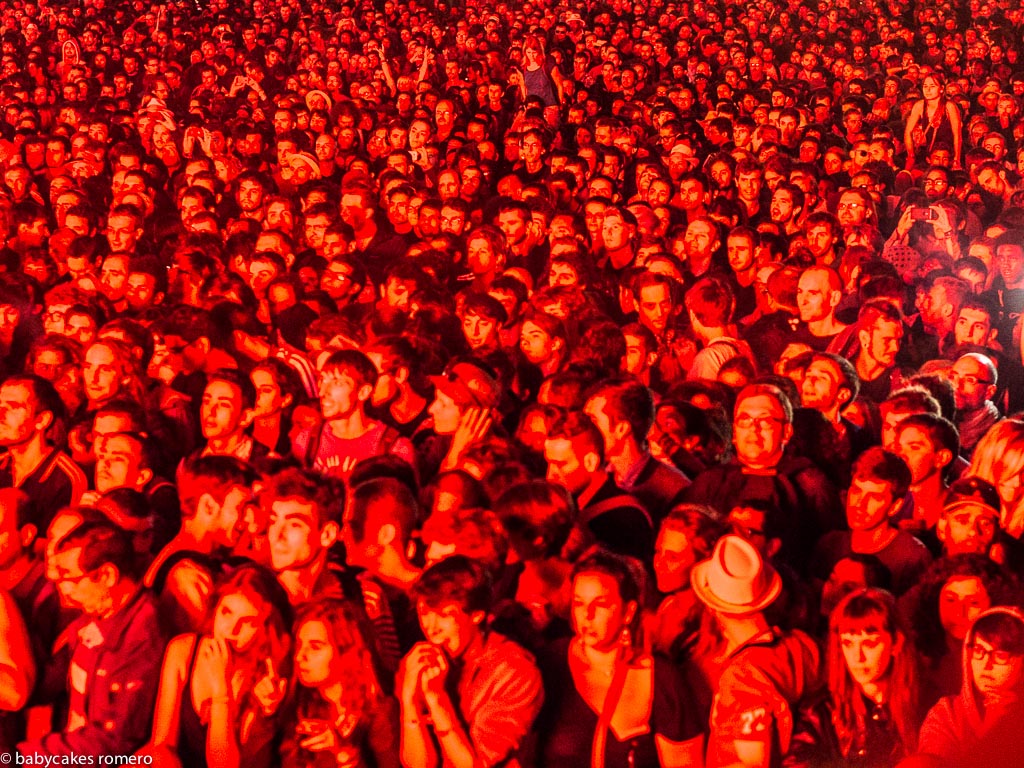 Massive Attack, photo by Babycakes Romero
Given you're also in on the music circuit, we'll assume you've got a few favourite bands.  What are you listening to this week?
I mostly listen to music from the 50s and 60s. Rock n roll, rhythm and blues, soul, do wop and rockabilly. It's an endless treasure chest of incredible music. I find the ratio of good to bad so much better than new music so I find it a much more rewarding experience.
I listen to a lot of mixes on Mixcloud and with Youtube and Spotify you can access anything from any period. For me, what's most important is no that its new but that its new to you. I also listen to a lot of soundtracks and have recently been enjoying the Inherent Vice OST, Guardians of the Galaxy and Grand Budapest Hotel. My favourite track by a new band at the moment is Dopamine Fiend by Da7 feat. Annie Bea. I shot the video for them but can't get the track out of my head.
Do you have any cool future projects or goals in the pipeline?
I have been asked to do a Ted Talk in Italy in April which I am excited about. It is on the subject of The Death Of Conversation and will be showing my photographs there too. I can't say I have ever done public speaking before so its a little daunting and not something I had planned but that's a good thing.
I think its important to just go with the flow and not worry too much about where you're going or why. If a train comes along, just get on it and see where you end up. The Despacio Soundsystem is going to be back on the road again this summer so am really looking forward to covering more of those.
Their tagline is "Despacio Is Happiness" and that is exactly what it is…one of the most uplifting, joyous experiences I've ever had with the best sound system on the planet.